The last time the mark changed hands was in the late 1960's, setting a world record back then, selling for just under £5,000!
Vehicle identification marks or as we like to call them now "number plates" were first issued in 1903. The UK starting the first system with what is now considered the worlds most valuable number plate " A 1 ". Later on in the century " RR 1 " (sold 8th September 2018) was issued in 1925. The owners (possibly Bentley motor vehicles) decided to auction the number plate via, Bonham's auction at Goodwood.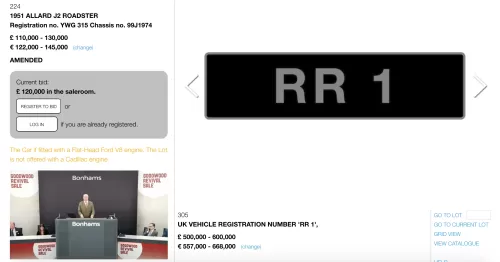 Other items sold at the auction, a Ferrari once owned by rock star Keith Richards, and Her Majesty The Queen's Rolls-Royce, Phantom IV, which is just one of 18 produced. A "La Ferrari" Sold for just over £4,000,000! CarReg can always help with number plate investments, please call us should you require help or free advice.