How To Find & Buy DVLA Number Plates
The DVLA creates and records vehicle registrations and so has a key role to play in the provision of vehicle registrations numbers or more commonly know, number plates.
There are many labels describing what we sell, the term "DVLA Number Plates" would be used in the trade to describe either prefix (E.g. A1 ABC) or current (E.g. AB12 ABC). Both styles originating from the DVLA.
See An Example Of DVLA Number Plates Available To Buy
There are literally millions of registrations offered directly from an enormous DVLA database of stock, comprising over 50 million previously unissued registrations which are available to purchase from us immediately. The Driver & Vehicle Licensing Agency whose head quarters are in Swansea, South Wales (UK) and are a government agency set up to act on behalf of the department for transport. They began commercially selling personalised registrations in 1989 (now more commonly called DVLA number plates or DVLA Registrations).

DVLA's stock mainly includes age related current and prefix plates. You can browse and buy unissued DVLA stock using our make your own number plate service. We also provide acrylic plates and an easy transfer service.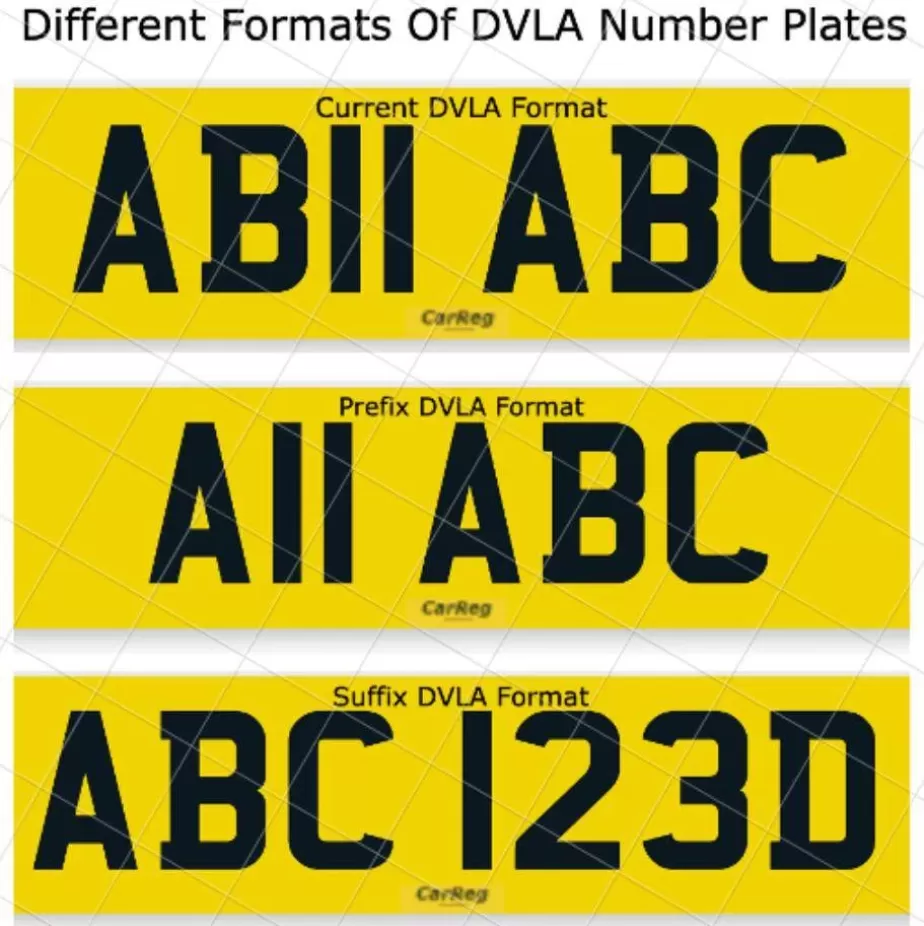 Interesting Facts About DVLA Number Plates;
K1 NGS sold for £185,000 (Via auction Dec 1993), then DVLA released K11 NGS for £144 (Via select registrations during the same decade).
B16 POO made £10,010 during an online DVLA number plate auction (May 2020).
The DVLA have been selling unissued combinations of personalised registrations directly and through its official auctions for more than thirty years, which began with the sale of A and H prefix number plates for £250. Some short, highly desirable numbers made significant sums of money resembling words or names.
The first DVLA auction was at Christie's and later Bonhams, selling registrations like '1 J', '1 A' and 'K1 NGS'. ELL 1E sold for a big price back in 1991 for £35,000 and in 1996 both N1 CKY and P1 LOT sold for £55,000 and £66,000 respectively. 1 D went under the hammer and sold for a record £285,000. 1 RH made £196,000 and 1 O sold for £170,000. More recently in December 2014 the record was broken once more with registration "25 0" making £400,000 on the hammer (for the valuable classic Ferrari 250).
Other expensive registrations sold at auctions include; DAV 1D, S1 MON, N1 GEL, ANN 1E, as well as short numbers like 1 0, 1 A, 1 00, 6 B all made significant sums when sold at the time. 51 NGH raised £245,000, whilst S1 NGH "only" made £86,000 during a similar auction! Names seemed to be the highest achievers in past years. Now we are finding that single numbers and single letters like "A1" or "1A" are by far more sought after and of course more expensive!
The DVLA have played an enormous role within the industry releasing millions of new numbers into the UK system every year. It was reported in the media that DVLA have raised over £2.5 billion for the Treasury over the last 30 years. DVLA had a record year in 2017 raising over £111 million.
The next auction will be held on ONLINE ONLY Sale on 10th to 16th January 2024. Find more Auction information here.

CarReg Are Registered Suppliers of DVLA Number Plates
By law, every company in the UK that supplies actual perspex number plates has to be registered with the DVLA under the RNPS (Register Of Number Plate Suppliers). This Government scheme was introduced in 2003 to help combat vehicle related crime.
All companies accepted within the scheme have to adhere to the laws;
The number plates must conform to British standards or the supplier can be fined up to £2,500 and/or be banned from supplying number plates.
The supplier must keep records of the number plates supplied or the company can be fined up to £1000 and/or be suspended from the register.
Records must include: The registration number the customer's name and address and entitlement to the number plate a number that can be used to trace a customer and is taken from an original document from an accepted form of ID, such as a driving licence or V5C or V750/V778.
The supplier must keep records for 3 years.
The supplier must let DVLA, the police and Trading Standards see these records if they ask.The supplier must report changes to register details to the DVLA within 28 days of the change or be fined up to £1,000. This includes if the supplier stops supplying number plates.
We are a DVLA Registered Number Plate Supplier (No: 27154).

We Are Recognised Resellers Of DVLA Registrations
The DVLA release new combinations and formats with previously un-issued registrations. CarReg have been registered DVLA re-sellers for almost 30 years.
There are now two different formats of DVLA registration, "Prefix" style which are of the A12 ABC format and the "Current" style which are of the AB** ABC format.
Today, you can buy a DVLA registration number "off the shelf" from only £155. If the number plate is a gift we suggest you buy online and also select to buy the actual perspex number plates. We will then we post the plates along with the official DVLA V750 certificate, ready to insert into a card! We have sold thousands of numbers as gifts, it really is that fast and straight forward. You can easily browse the different combinations available or make your own DVLA number plate with CarReg's "Make Your Own Number Plate" system.